Your blood pressure is 150 over 91?
What your values mean
Your blood pressure is: Too high - Hypertension Stage 1
Table of Contents
---
1. Scale / Classification as diagram
0
10
20
30
40
50
60
70
80
90
100
110
120
130
140
150
160
170
180
190
200
210
220
0
10
20
30
40
50
60
70
80
90
100
110
120
130
140
150
---
2. Virtual Blood Pressure Monitor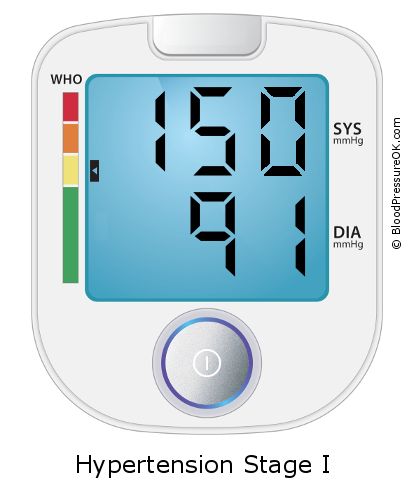 3. Check another value
4. Meaning of Hypertension Stage 1 blood pressure
Your blood pressure too high - Hypertension Stage 1

Requirement for a blood pressure Hypertension Stage 1 is a value of 140-159 over 90-99.

Would your systolic (upper) value increase by 10 mmHg to 160 mmHg and your diastolic (lower) value would increase by 9 mmHg to 100 mmHg your blood pressure was not anymore 'Hypertension Stage 1' but 'Hypertension Stage 2'.


Causes and Risks of Hypertension Stage 1



Doctors consider a stage 1 hypertensive person as hypertensive. A case of hypertension could be primary or secondary. A primary case of hypertension can be from a person's diet or obesity. Hypertension may develop from a high sodium intake, as well. A secondary case of hypertension may come from a reaction to a medication. Secondary hypertension can develop because of a heart, liver or kidney disease, as well. Diabetes may play a role in the development of stage 1 hypertension. Doctors will want to control or reduce a patient's hypertension before it becomes a case of stage 2 hypertension or a hypertensive crisis. Medical specialists may use a variety of methods to treat a person with stage 1 hypertension.

Stage 1 hypertension can cause damage to a person's kidneys, liver and heart if he or she does not receive treatment for it. Therefore, a physician will most likely implement a dietary plan for a person with stage 1 hypertension. He or she may also prescribe pharmaceutical drugs such as thiazide, lisinopril, nadolol or diltiazem. A person who is over the age of 20 should receive a blood pressure reading a least once every two years to check for high blood pressure. Quick action is the best defense against the condition.


Additional information
---