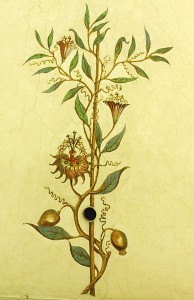 Although we try to take care of ourselves and seek medical treatment when necessary, one of the major concerns with many patients is the adverse side effects of prescription medications designed to make us feel better. In many cases, the patient's initial problem may decrease only to be replaced with other problems caused by medication side effects. This is why so many patients are now choosing natural and herbal remedies. One plant that's gaining particular attention is the passion flower, along with its many health benefits, particularly its use in fighting high blood pressure. Read more about this versatile plant.
What is Passion Flower?
Referred by many as a very striking vibrant plant, the passion flower has an appearance similar to a daisy in shape. One common strain of this plant has white flowers with yellow-tinged tips and purple "seeds' in the center. There are more than 400 varieties of this versatile plant called the passion flower. It is also called by many other names such as wild passion flower, apricot vine, Apigenin and Jamaican honeysuckle, among others.
Many spiritual and religious traditions had the belief that this flower had spiritual and sacred qualities. It was named after the "passion of Christ' because many believed it represented the crucifixion of Christ. Discovered in Peru, the passion fruit has been around since the late 1500s. Today it has even more uses and purposes. One of the flowers many benefits is its ability to treat and/or fight high blood pressure.
How Passion Flower Helps Against High Blood Pressure
High blood pressure or hypertension is often brought on by overstimulation of the nervous system. The passion flower has two components, beta-carboline alkaloids and chrysin, that provide health benefits for the nervous system. The alkaloids possess the same qualities as modern-day MAO inhibitors, which are used as a treatment for depression. Chrysin has been proven to be effective for relieving anxiety. By relieving both depression and anxiety, this planting is not only helping the nervous system but also relieving the patient of two problems that can contribute to high blood pressure.
Another way that the passion flower can help with high blood pressure is because of its ability to decrease stress, nervousness and anxiety – all contributing factors to high blood pressure. The passion flower also has components that relax the muscles in the blood vessels, which can help to lower the blood pressure. Although the passion flower may not be a proven treatment for high blood pressure, research has shown that it's beneficial in treating or preventing the many conditions that can lead to high blood pressure. It's also a healthful additive that does not fill the body with many unpleasant side effects, and it is not addictive.
What About Dosage?
The dosage in which patients take the passion flower may vary, based on age, weight and method in which it's being used. Passion flower may be taken as a dried herb by some, while others may prefer to take it in a tincture or extract form. This plant can also be given as an infusion. People who choose to use passion flower on a regular basis often use the dry herbs in tea form. They may take from four to eight grams per day. Tea is a very popular method of consuming passion fruit.
Health Benefits of Passion Flower
In addition to its ability to fight high blood pressure, the passion flower has many other health benefits. The flowers, stem and leaves of the passion flower have been used for sedatives for many years in Native America. In Europe, the flowers of this plant are used in conjunction with other medications to treat anxiety, stress and heart palpitations.
Due to its ability to calm the nervous system, the passion flower is also used to treat neurological and psychological disorders. Although it can also be used as a mild pain reliever, this plant does not cause drowsiness that's often experienced with many prescription pain relievers. This quality alone has made it popular with patients suffering from many ailments. The passion flower has also been linked with the treatment of Parkinson's disease, as well as a method of treatment for drug addicts and alcoholics suffering from withdrawals.
It's also used to treat the nausea and vomiting that are common side effects from prescription pain medications. Additionally, the above-ground parts of the passion flower are used to treat the following health issues:
• Muscle tension
• Emotional turmoil
• Insomnia
• Asthma
• Menopause symptoms
• Hyperactivity
• Epilepsy
• Seizures
• Fibromyalgia
• Chronic pain
• Various nervous disorders
• ADHD
Check another value?
Change the numbers in the field
---