Your blood pressure is 87 over 59?
What your values mean
Your blood pressure is: Too low - Hypotension!
Table of Contents
---
1. Scale / Classification as diagram
0
10
20
30
40
50
60
70
80
90
100
110
120
130
140
150
160
170
180
190
200
210
220
0
10
20
30
40
50
60
70
80
90
100
110
120
130
140
150
---
2. Virtual Blood Pressure Monitor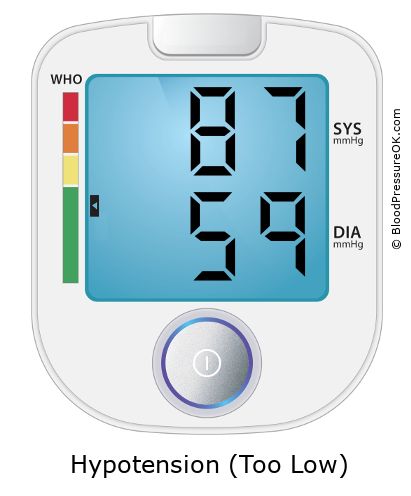 3. Check another value
4. Meaning of Hypotension blood pressure
Your blood pressure is too low.

Though a value of "too low" does not exist in the classification of the WHO it is very usual to classify a blood pressure unter 105/60 as hypotension.


Usually a blood pressure under normal is harmless. A lot of people live all their life with low blood pressure without having any downsides. So if you feel well, this blood pressure is no reason for worries.

Would you want to increase your blood pressure to make it a normal blood pressure you would have to increase your systolic (upper) value by 18 mmHg and your lower (diastolic) value by 21 mmHg.




Symptoms of hypotension are:
Paleness, cold hands and feet, feeling cold
easy tiredness, concentration problems
dizziness, "blacking out"
headache
syncopes, collapses
If those symtpoms appear directly after changing your body position (ex. getting up fast) they will most likely disappear in a matter of minutes.
What you should do:
If you have circulatory problems, dizziness, brackishness or feel like you are passing out please contact a doctor
A cooking salt rich diet und a good hydration can help to increase your blood pressure.
Those actions can also help strengthen your body:
Regular sports and exercise
stimulating herbs (like rosemary)
warm and cold showers (end cold)
slow getting up, especially in the morning - stretch and extend!
Please note: coffee and drinks that contain coffeine will only increase your blood pressure for a short period of time
Additional information
---