Your blood pressure is 123 over 49?
Blood pressure 123/49 - what does it mean?
Your blood pressure reading of 123/49 indicates Hypotension. This means your blood pressure is lower than the usual with values at a systolic (upper) value under 105 mmHg and a diastolic (lower) value of under 60 mmHg.
However, in most cases this is no reason to be concerned. If your blood pressure is only slightly under said values and there are no health impairments a hypotense blood pressure might be alright.
By the way: Your systolic value of 123 mmHg is better than your diastolic value and would classify as Normal. But if you are getting two different types of classification for your blood pressure it is correct to choose the one that is considered worse.
Check another value?
Change the numbers in the field
Blood Pressure 123/49 on the blood pressure scale
0
10
20
30
40
50
60
70
80
90
100
110
120
130
140
150
160
170
180
190
200
210
220
0
10
20
30
40
50
60
70
80
90
100
110
120
130
140
150
What you should know about a blood pressure of 123/49
Though a value of "too low" does not exist in the classification of the WHO it is very usual to classify a blood pressure unter 105/60 as hypotension. Your blood pressure of 123/49 falls into this range.
Symptoms of hypotension can be:
Paleness, cold hands and feet, feeling cold
easy tiredness, concentration problems
dizziness, "blacking out"
headache
syncopes, collapses
If those symtpoms appear directly after changing your body position (ex. getting up fast) they will most likely disappear in a matter of minutes.
What you should do:
If you have circulatory problems, dizziness or constantly feel like you are on the verge of passing out, please contact a doctor.
A salt rich diet and staying hydrated can help to increase your blood pressure.
These actions can also help strengthen your body:
Regular sports and exercise
stimulating herbs (like rosemary)
warm and cold showers (end cold)
slow getting up, especially in the morning - stretch and extend!
Please note that coffee and drinks which contain caffeine will only increase your blood pressure for a short period of time.
Blood Pressure 123/49 on the blood pressure monitor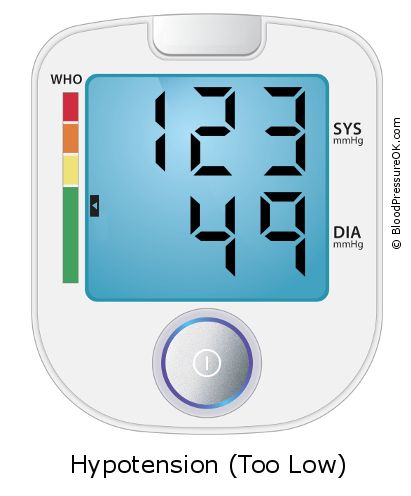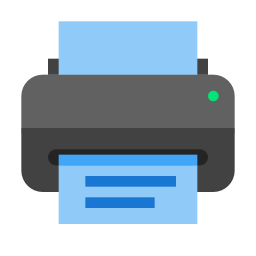 Print this picture for your records
Recent Posts
Check another value?
Change the numbers in the field
---