Your blood pressure is 124 over 68?
Blood pressure 124/68 - what does it mean?
Your blood pressure reading of 124/68 indicates a Normal blood pressure. The requirements are met with a systolic (upper) value under 130 mmHg and a diastolic (lower) value of under 85 mmHg.
The normal blood pressure is a good requirement to avoid damaging of vessels and organs. With a normal blood pressure you can increase your life expectancy. However, there is always room for improvement. Try to get your values below 120/80 to have your blood pressure rated Ideal.
By the way: Your diastolic value of 68 mmHg is better than your diastolic value and would classify as Ideal. But if you are getting two different types of classification for your blood pressure it is correct to choose the one that is considered worse.
Blood Pressure 124/68 on the blood pressure chart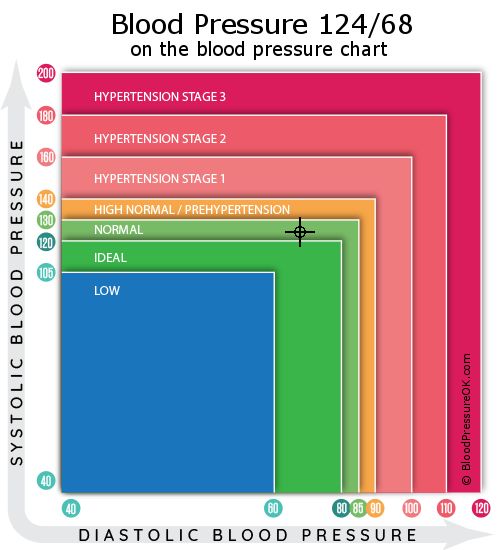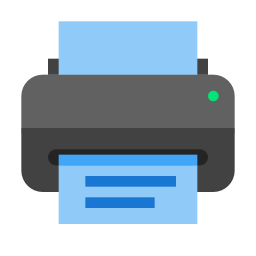 Print this picture for your records
Check another value
What you should know about a blood pressure of 124/68
Your blood pressure of 124/68 is normal. You can still improve it. To do so, try to get values below 120/80.
The following can help to reach an ideal blood pressure level:
Regular sports and exercise
No smoking
Low salt intake
Reduce caffeine and alcohol
Reduce stress
Blood Pressure 124/68 on the blood pressure monitor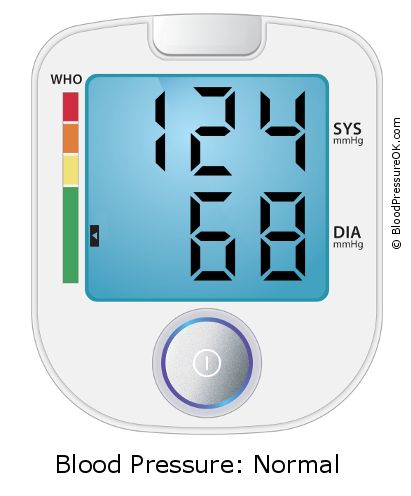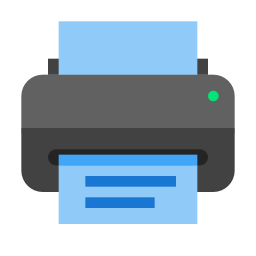 Print this picture for your records
More Information
---